Most recents posts
The Burden of Congenital heart disease in China
Expert Report on the burden of congenital heart disease in China. Based on a presentation by Andreas Petropoulos (Merezi Klinika, Baku) on April 12th at MITERA hospital Athens- 3rd EuroAsian symposium on Pediatric Cardiology and Surgery
Collaboration Siemens Healthineers
Nano4Imaging GmbH, a leader in real time interventional cardiac magnetic resonance (iCMR) solutions, is pleased to announce that it has signed a Letter of Intent (LOI) with Siemens Healthineers that provides Nano4Imaging the ability to develop and subsequently deploy the Company's new TRACKR software as a guiding system on the Siemens Healthineers MAGNETOM Magnetic Resonance Imaging (MRI) systems.
The LOI aims to provide Nano4Imaging the ability to connect its AI based endovascular guiding software TRACKR to Siemens Healthineers MAGNETOM systems. This connection is made possible by a CE-labeled software interface from Siemens Healthineers called "Access-i", which is available for Siemens Healthineers MAGNETOM systems such as MAGNETOM Sola and Vida. In addition, the interface would also allow using the TRACKR software for guidance of catheters from other vendors equipped with Nano4Imaging MagnaFy markers on Siemens Healthineers MAGNETOM systems, including their recently introduced 0.55T scanner MAGNETOM Free.Max.
The LOI further aims to provide the opportunity for current iCMR sites using Siemens Healthineers MAGNETOM systems to extend their interventional MRI toolkit with Nano4Imaging prototype TRACKR software beginning in 2024. Their input will be used to customize the TRACKR prototype software to exact clinical needs and performance.
Rudolf Schulze Vohren, CEO Nano4Imaging, summarizes as follows: "This collaboration with Siemens Healthineers will advance the application of our TRACKR platform for the development of new endovascular treatment modalities, especially in partnership with many device OEMs. For the benefit of many patients and hospital professionals."
Robert Krieg, VP MR Advanced Solutions & Therapy, Siemens Healthineers, stated: "Siemens Healthineers is excited to engage in this development partnership with Nano4Imaging, since it has the potential to complement our software and hardware offerings in MR guided interventions for our clinical partners".
Commenting on the collaboration with Siemens Healthineers, Rudolf Schulze Vohren continued: "The TRACKR software is a result of the close partnership we have with Siemens Healthineers, and we are very pleased with how our partnership continues to grow and mature.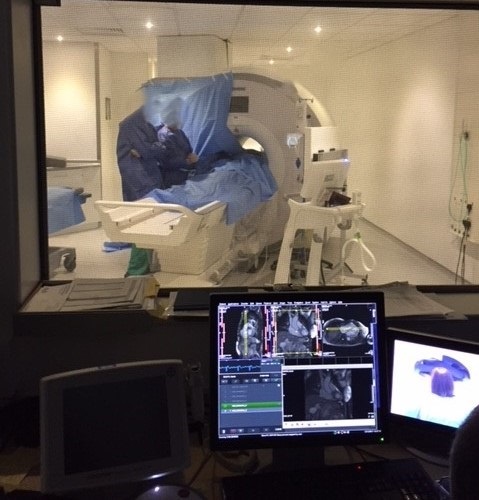 Nano4Imaging kicks off this year's fundraising roadshow on September 6-7, 2023 at the New York Venture Summit organized by youngStartup Ventures. Cansu Ahlemeyer, CFO, and Rudolf Schulze Vohren, CEO, look forward to introducing the potential of our AI-driven trackr. platform to many investors and friends of medical devices. Join us at the Javits Center to learn more about this innovative technology, empowering medical procedures guided by MRI.

MRI supported markers
During a real time scan in MRI it's not always easy to locate the interventional device. In this video we want to explain how our TRACKR software supports guidance during MRI procedures, using our passive marker technology.
Advantages and needs, current and future indications, groundwork, availability, live case and open field lab
Article on Low field MRI impact on interventions; advantages and needs, current and future indications, groundwork, availability, live case and open field lab
Back at SCMR: Join us at Booth 104
After two years of absence, we are happy to announce that  once again wel will be exhibiting at the 26th SCMR scientific meeting, this time in the beautiful San Diego Marine area.
If you have time to visit we are eager to share thoughts on interventional MRI and our development plans for the next two years. Our booth number is NR 104 and exhibition hours are from January Wednesday 25th from 5:00pm to 7:00pm until Saturday 28th between 7:00am – 1:30 pm. Please see this meeting as a start of possible first encounter with Nano4imaging.  If you want to make an appointment just mail Lucien de Mos, our new director Operations, at lucien.de.mos@nano4imaging.com
We would like to thank our customers who make interventional MRI happen. Without your commitment and determination this wouldn't be possible. A special thank from our heart here! And even if you are not able to visit out booth, Nano4imaging wants to wish you all the best, health and prosperity in 2023.
Warmest regards, TEAM of Nano4imaging.