Last week (september 5-8th 2018)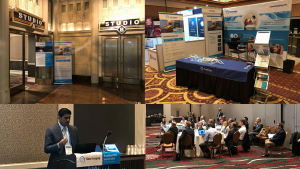 Nano4Imaging had it's first big appearance on the US market via participation during PICS, the annual meeting of the pediatric interventional cardiological society.
La Vegas PICS proved to be a breakthrough and gave us the opportunity to welcome a large number of new interested cardiologists and discuss with them the options to do a catheterization procedure in the MRI. In a round table discussion on september 6th a number of clinical opinion leaders and Industrial partners discussed the way forward to get MRI guided diagnostics and interventions going in clinical practice. Prof Ewert (German Heart Centre-Munich) told interventionalist to get out of their "bubble" and talk to the MRI people, while dr Reddy (Dallas Children's) showed a number of congenital clinical cases done in Dallas under MRI provoking further imagination towards real interventions.
 Finally prof Halperin (Johns Hopkins) showed the participants what is already available and possible in other fields such as electrophysiology. On                           site a task-force was defined that will investigate further clinical needs to enable MRI guidance in (pediatric) cardiology. We will return to Vegas in                               december this year for the SCAI fellows program on pediatric cardiology sharing